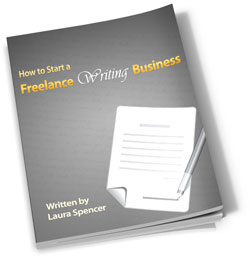 How much would you pay to be able to set your own hours, choose your own workplace, and determine which projects you will do and which you will not?
What if you could have all of the above while doing something you love?
For me, that's what it's like to be a freelance writer.
Freelance writing might be the right career choice for you too.
To help you get started, I've taken what I've learned about starting a writing business and included it in this easy-to-follow guide, How to Start A Freelance Writing Business.
In fact, if you follow the steps I detail for you then you should be able to avoid making some of the mistakes that I made.
Topics covered in this e-book include:
A discussion of what freelance writing is and various types of freelance writing
Instructions for selecting a freelance writing market, specialty, or niche
An explanation of how to brand yourself as a freelance writer
Details on how to set the right rate for the work that you are doing
A discussion of how and where to get your first (and subsequent) clients
Tips and tricks for managing freelance writing projects
Additional resources, and more
This resource is worth much more, but it can be yours now for only $12.00. Click here to view more details and download your copy today.
(Note: This page contains my affiliate link.)