I know that I do and so do my kids.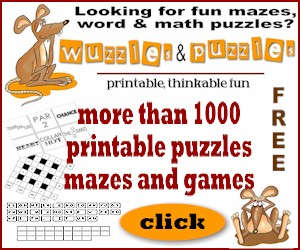 Well, I discovered this neat puzzle site through the Mom Blogs. The site is called, believe it or not, Wuzzles and Puzzles.
The thing that I like about this site is that you can print the puzzles out.
So, whether you're headed to the Doctor's office or ready for a long trip, you can take these puzzles with you to keep older kids entertained. If you have a pre-teen or teen sick at home, just hand them a stack of these puzzles.
Have fun!