When BzzAgent offered me the opportunity to get a Fly Fusion PenTop Computer to test out and give my opinions about, I jumped at the chance because I knew that it would be a great product to review for this blog. Darling Daughter number two (DD2) was pretty happy about the review too. (The suggested age range for the product is fifth through tenth grade.)
The PenTop Computer is a really nifty tool to help your kids study. Your kid can take notes and save them to the computer. It also translates between Spanish and English and does basic math problems. You can download additional software modules for an additional cost (compatible with most text books, although not DD2's texts) for more study tools.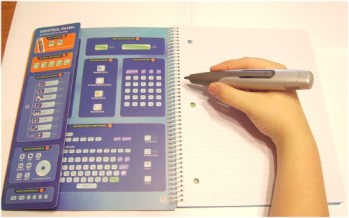 Of course, DD2 was more interested in the fun aspects of the Fly PenTop Computer. Those aspects include the ability to play games, listen to MP3s, and make quizzes. In fact, I had a little trouble getting the PenTop Computer away from her to do this review.
I will say that the Fly Fusion PenTop Computer is not cheap – it runs just under $80.00 for a starter kid. It can be found just about anywhere that electronic items and toys are sold (Toys 'R" Us, Wal-Mart, Target, etc.). In addition to the starter kit, accessories the accessories cost even more: software modules for it range from $1.99 to $29.99 each and the special FLY Paper notebooks are $7.99 each (and you know how fast kids can run through notebooks).
However, with the holidays just around the corner, then the Fly Fusion PenTop Computer just might be something to add to your shopping list (especially if you have a reluctant student who needs something to get them excited about studying).
Has anyone else already tried this product? I'd love to hear what you think about it.
(Disclosure: I purchased this product using a discount for BzzAgents.)
Contents (c) Copyright 2007, Laura Spencer. All rights reserved.